Directions and Maps
Race Site
The races will take place at Festival Pier on the Pawtucket River. See below for parking & shuttle service
Race Day
Parking and shuttle buses
Parking and shuttles for teams and attendees will be located at Apex, 100 Main St., Pawtucket (this lot is closest to the event) and the Blackstone Valley Visitor Center, 175 Main Street, Pawtucket (parking lot is in rear of building).
Shuttle buses will start at 7:00 am and run until the awards ceremony has been completed.
There will be express service between Apex & the Visitor Center parking lots and Festival Pier from from 7 AM – 10 AM & 4 PM – 5 PM.
From 10 AM – 4 PM buses will be running on a continuous loop to all stops. VIEW MAP BELOW
Team vehicles – No team vehicles will be permitted on Tim Healey Way on race day. Parking in the area is extremely limited. You may drop off team members and gear at the top of Tim Healey Way, but must park in the designated lot at Blackstone Valley Visitor Center.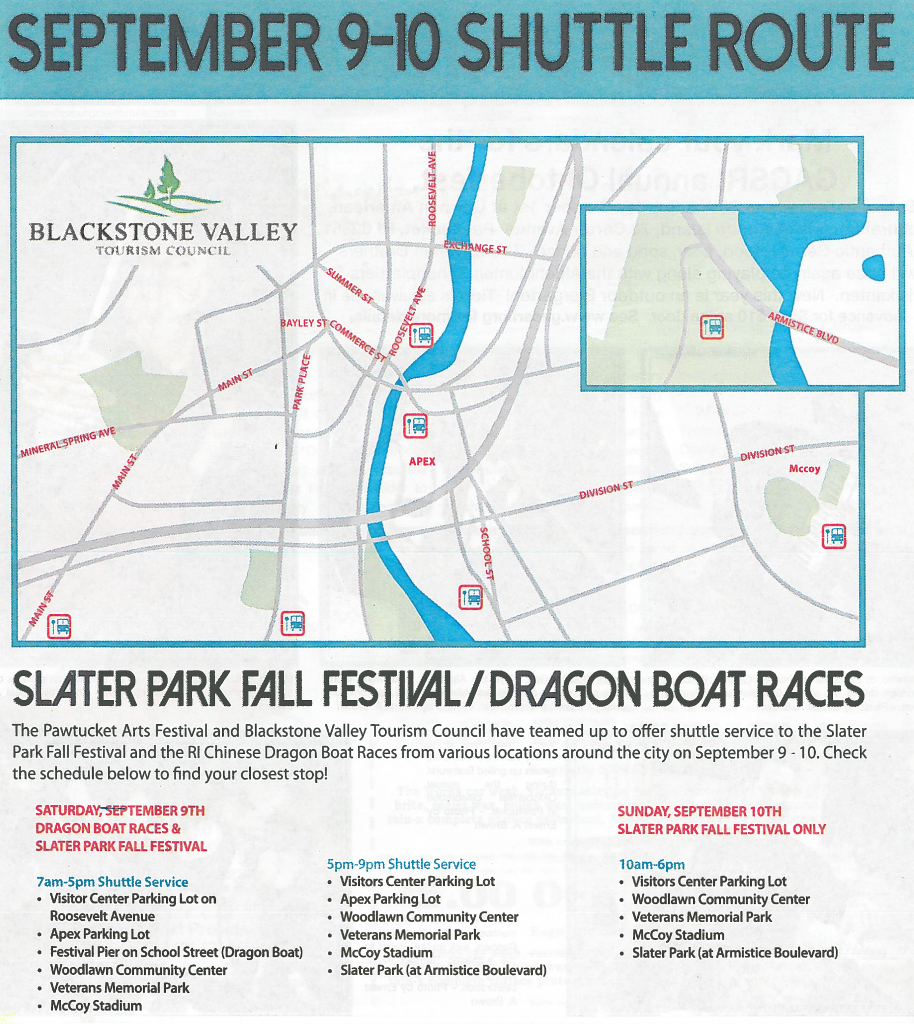 Team set-up
On Friday, September 8, teams will be allowed to bring equipment, such as lawn chairs, to the race site from noon until 5:00 pm. The on-site security officers will not allow access after 5:00 pm.
Day-off arrival and set-up begins at 7 am. Please read below for parking and instructions.
Blackstone Valley Tourism Council office
175 Main Street
Pawtucket, RI  02860
401-724-2200
info@tourblackstone.com